Category Filters
One of a Kind Lyne on limb
SOLD

40" Length
SOLD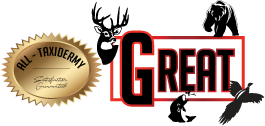 Lynx Taxidermy
A beautiful Lynx taxidermy mount for sale. You can get a gorgeous lynx mounted in various position with different head tilts and designs. The lynx can vary in sizes depending on the desired location and position. With a lynx taxidermy the fur is luscious and colored in shades of gray, cream, black and brown. When picking a lynx taxidermy, you can choose various grades of quality.
Lynx Mounts
Lynx have a short tail, characteristic tufts of black hair on the tips of their ears, large, padded paws for walking on snow and long whiskers on the face. Under their neck, they have a ruff which has black bars resembling a bow tie although this often not visible. Body color varies from medium brown to gold to beige-white and is occasionally marked with dark brown spots, especially on the limbs. All species of lynx have white fur on their chests, bellies and on the insides of their legs, fur which is an extension of the chest and belly fur. The lynx's coloring, fur length and paw size vary according to the climate in their range. Their paws may be larger than a human hand or foot.
About All-Taxidermy
All-Taxidermy is a small, family-owned company that has been providing superior service for the past five years. We strive to complete every job in the shortest time frame possible, without compromising aesthetic requirements. That means you can expect your product to be shipped at the soonest date possible, and to arrive with the most professionally-done look.