Category Filters
SCI 155 0/8, 20 5/8 spread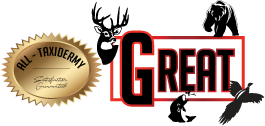 4 x 4 Mule Deer

5 x 4 Mule Deer
Mule Deer Duette

5 x 5 Mule Deer
Thick Hide

Mature Buck

5 x 5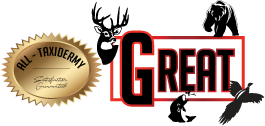 SCI 100 3/8
SOLD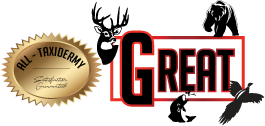 About the Mule Deer Mounts
The Mule Deer is one of the more commonly recognized animals in all of north america. The male mule deer can grow to 300 lbs producing antlers that are fully grown and shed once each year. The antlers they produce differ from the whitetail deer, with two 'forks' on each side being the most common growth pattern, totaling 8 points. Mule deer are hunted in most western areas of the United States with trophy class antlered males being the most desirable. Their habitat includes everything from the open prairie to mountainous terrain and wooded forests, making them extremely adaptable to a variety of surroundings.
Mule Deer Shoulder Mounts
These beautiful deer are natives of western North America, more specifically, the land west of the Missouri River around the Rocky Mountain region.  They are so named for their large ears like those of the mule. Our mule deer mounts bring out the raw nature of the wild and gentle beast in any room. Featuring the broad shoulders and head in full detail, including a spread antlers.
Mule Deer European Mounts
A European mount is a skull with the hide removed and bone bleached white, usually hung on the wall as a way of showing off that trophy. The term European mount is sued because Europe was the first place where these mounts became popular.  Before modern taxidermy it was much more difficult to safely and effectively preserve an animal with it's own skin.  Groups of hunters would returned from a hunt with their game and clean the muscle, tissue, and hide off the skulls and leave them out to bleach by mother nature.