Category Filters
Amazing Condition
SCI score 159 6/8 12 pointer

SCI score 147 1/8
9 Point Buck Open Mouth

9 point buck

SCI score 124 3/8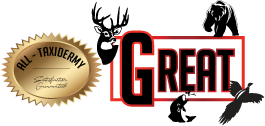 SCI 138 0/8
Rustic 10 pointer
Reproduction SCI 192 2/8

Whitetail Deer Taxidermy Mount Process
There are several steps to creating the perfect whitetail deer mounts. When purchasing a deer mount or getting one custom made, it is important to ensure that you chose a taxidermist that is skilled and knowledgeable in creating and perfect deer mount. Below is a overview of the process All-Taxidermy follows to ensure the best mounts possible.
Measurements:
Once it has been decided what kind of whitetail deer mount is desired, the next step is to measure out the area of the deer's head, neck, and some portion of the chest with the deer skull. These measurement will be an important step to ensure the taxidermy mount comes about as expected.
Caping:
Caping is the process of removing the skin from the whitetail deer to create the taxidermy mount. This is the step that the measurements will help to identify the proper areas to cut.
Of all of the whitetail deer body parts, the head can be the most difficult to accomplish when doing the caping procedure. The head is often the part that gets damaged the most, but our taxidermist are experts in the caping process.
Tanning:
The next step in our creation process is to treat the skin with a solution in a container with gallons of water to be boiled altogether, from there the skin will be soaked once it has completely cooled off. This process is used to preserve the skin and give it a natural, leather-like finish that can be easily maintained.
Cleaning:
The next step after tanning is to clean the skin to ensure that no lingering unwanted dirt and grim is left on the skin. Once cleaned, the skin can be sewn to cover any lingering holes. This is important for covering gunshot wounds and holes created during the hunting process.
Casting:
Casting is where the mounting kits will be of use to give the whitetail deer hide volume to recreate its original form. This part is where the skills of the taxidermist really shines through. Trying to create a smooth, light form that needs little maintenance after mounting is one of the goals of any taxidermist.