Category Filters
Gobbling On a Limb
Amazing 1/2 Body

Excellent Display

10 1/4" Beard

Extremely Colorful

Amazing Attention to Detail
Outstanding Craftsmanship
Great Colors and Detail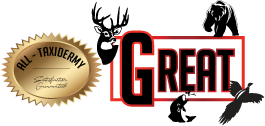 Amazing Detail

Amazing Colors

Great Item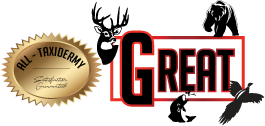 Amazing Colors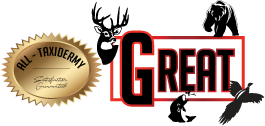 Waterfowl, Bird, Upland and Turkey Taxidermy
Our bird taxidermy is created by the appreciation for wildlife, and has evolved into one of the largest waterfowl and upland bird taxidermy collections. A continuous effort is being made to bring new and innovative ideas to enhance their quality and diversity.
Caring for Bird Taxidermy Mounts
Taking care of your bird mounts will ensure the longest life possible. The first step in taking care of your bird taxidermy is to dust it with a damp cloth or with compressed air. Avoid putting your bird mount in direct sunlight, as this will fade the mount's colors over time.
About All-Taxidermy
All-Taxidermy is a small, family-owned company that has been providing superior service for the past five years. We infuse the same level of pride and care into doing the job right. We try hard to make our services available to everyone, and we strive to complete every job in the shortest time frame possible, without compromising aesthetic requirements. That means you can expect your product to be shipped at the soonest date possible, and to arrive with the most professionally-done look.