Category Filters
SCI Score 22 8/16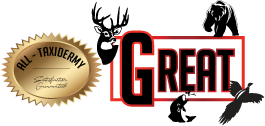 Bear Hands holding Gun
Thich Hide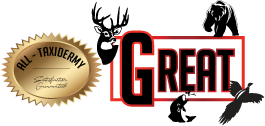 Large Calm pose
68 1/2" nose to tail
OUTSTANDING!!
Open Mouth 250lbs
Long and Multi Color

SCI Score 24 6/16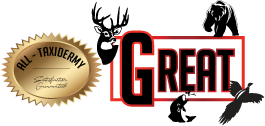 Bear Mount Taxidermy For Sale
All-Taxidermy sells the most authentic life-like bear mounts, perfect for rustic décor. Our bear mounts come in a wide range of expressions, poses, and sizes. Our bear mount taxidermy features different versions of expressions from closed mouth to open mouth. Each bear mount stands on its own or is optimal for combining and creating a unique setting.
With a range of bear species available such as the black bear mounts and brown bear mounts, you will almost always be able to find what you are looking for. All-Taxidermy also does custom pieces, so give us a call with your next custom bear taxidermy.
About All-Taxidermy
All-Taxidermy is a small, family-owned company headquartered in Wrightstown, Wisconsin. Whether we're creating a tiny squirrel or a majestic wild moose, we infuse the same level of pride and care into doing the job right and making the finished product look like a work of art. We try hard to make our services available to everyone, and we strive to complete every job in the shortest time frame possible, without compromising aesthetic requirements. That means you can expect your product to be shipped at the soonest date available, and to arrive with the most professionally-done look.