Category Filters
SCI 202 2/8 in Velvet

Rare Black Fox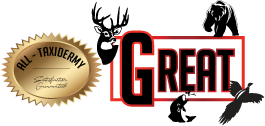 Huge Boar Neck

Outstanding Boar Display

Terrific Boar!!

12 3/4" Skull

Outstanding!!

Soft Hide!

Soft Hide!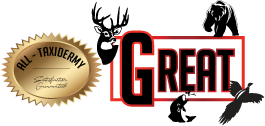 SCI Score 280 6/8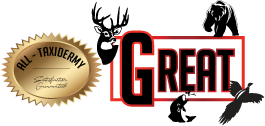 SCI Score 86 0/8

AMAZING SCI Score 289 5/8"
---
European Deer Mounts
Our European deer mounts are of the finest quality. Shop species like the Red Stag and Fallow Deer. These magnificent deer mounts will look stunning with their wide, many-pointed racks in a museum, your cabin, or above your fireplace in your living room.
Red Stag Taxidermy
The Red Stag deer is native to Europe, the Caucasus Mountains, Asia Minor, parts of western Asia, and central Asia. The male Red Stag is known to grow huge antlers that can be as many as between 12-16+ points. When it comes to taxidermy, investing in a Red Stag shoulder mount is one of the best choices, as these gorgeous racks can span wide and easily fill the space with its majestic presence.
Fallow Deer Taxidermy
Meanwhile, the smaller Fallow Deer have unique, "shovel-like" antlers. The bucks, does, and fawns all tend to have a chestnut-colored coat with white spots, although other colorations may occur in this species. The Fallow Deer taxidermy mounts you will find in our online store are crafted with the utmost attention to detail.
Shop deer mounts today for Red Stag, Fallow Deer, and other species and get exceptional deals.
European Boar Mounts
Our European boar and hog mounts are available in a number of quality grades. The wild boars of Europe are also known as "wild swine," "common wild pig," or the "wild pig," and they live in the Palearctic region of the world. These majestic shoulder mounts will be a great addition to your living room, cabin, or in a museum. Shop boar mounts today.
European Sheep Taxidermy
We have an inventory of beautiful Iberian Spanish Ibex, Mouflon Sheep, Spanish Goat, Corsican Ram, and other goats, sheep, and ram specimens. These incredible shoulder mounts and full-body taxidermy mounts are visually stunning, with most of them available in Great, Excellent, or Superior condition. You may even find a couple Trophy, museum quality specimens among them. Shop our goats, sheep, and ram taxidermy today.
European Skull Mounts
We also have plenty of European skull mounts available, from the Spanish Goat, to the Russian Boar. These eye-catching skull mounts will look appealing over your TV or fireplace in your living room, at your cabin, or even as a museum piece. Shop Jacob's Sheep, Soay Sheep, Red Stag, Aoudad European/Barbary Sheep, and Texas Longhorn, among others. Enjoy the majesty of these skull displays!
About All Taxidermy
We are a small, family-owned taxidermy company based in Wrightstown, WI. At All-Taxidermy, we are committed to quality and outstanding craftsmanship in our wall, tabletop, and overhead animal taxidermy pieces. In addition, we provide prompt and great care in our shipping process, so you can expect only the best taxidermy services.