Category Filters
Beautiful White Stripe

Beautiful White Stripe

Outstanding Hide

Detailed gray fox on habitat
SOLD
46' Red Fox, 43" Black Pheasant
SOLD

OUTSTANDING!
SOLD
Outstanding Shape
SOLD

Outstanding Condition
SOLD
39 1/2" Length
SOLD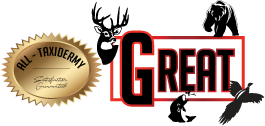 Amazing Colors
SOLD

Red Fox Taxidermy
Red foxes are known to be very cunning, making them resourceful. Red Foxes are great at adjusting to their environment, allowing them to live in many diverse places such as forests, mountains, or even human environments like farms. When it comes to hunting, red foxes are said to be solitary hunters that feed on rabbits, birds, or other small prey. Red foxes are hunted for sport, making them a highly sought after mounting piece.
Silver Fox Taxidermy
Much like the red fox, the silver fox has a similar color variation. However, the silver colors are considered to be less common to see than a red fox coat. They can live in many different environments, such as mountains, deserts, and grasslands. The Silver fox has a large, bushy tail used for insulation during winter months and also for signaling to other foxes from a distance. The silver fox makes for a beautiful piece in any decorating.