Category Filters
Outstanding Female Bobcat
Custom Pose

49" Length
Length of 34 1/2"
SOLD
Aggressive Pose
SOLD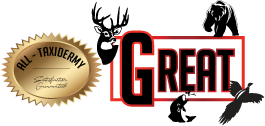 Stalking Pose
SOLD
Outstanding Open Mouth Pose
SOLD
Bobcat Taxidermy Mounts Cost
The position style and size of the bobcat will decide how long the job takes. The longer and harder the job, the pricier it will be. For example, a full size bobcat in three different positions will rang between $750-$2000.
Most bobcat taxidermy offered is typically full sized and simply varies between the positions available.
Bobcat Taxidermy Mounts Positions
There are several options to choose when it comes to bobcat mount positions. Below is the three most common positions:
Sitting: This position is a typical position and is good for just about any location. The sitting position is the easiest and cheapest to make but is not as popular as other positions.
Laying: The laying position is slightly more popular of a choice, this stance is relaxed and serene and also has the advantage of fitting in several locations around the home.
Standing: There are many different ways to create this position, from a simple standing position to a hunting stance. Being the most popular choice, this stance is widely created and has many options.
About All-Taxidermy
All-Taxidermy is a small, family-owned company headquartered in Wrightstown, Wisconsin, and have been providing superior service and products for the past five years. All-Taxidermy cares and respects all our customers and is the reason we take great pride in each and every job we do. Whether we're treating a tiny squirrel or a majestic wild moose, we infuse the same level of pride and care into doing the job right and making the finished product look like a work of art. We try hard to make our services available to everyone, and we strive to complete every job in the shortest time frame possible, without compromising aesthetic requirements. That means you can expect your product to be shipped at the soonest date possible, and to arrive with the most professionally-done look.