Category Filters
Amazing 1/2 Body

Relaxed Pose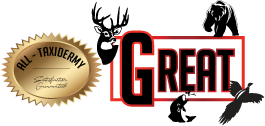 Outstanding Female Bobcat
SOLD
Length of 34 1/2"
SOLD
Aggressive Pose
SOLD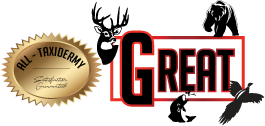 Stalking Pose
SOLD
Custom Pose
SOLD

Outstanding Open Mouth Pose
SOLD
49" Length
SOLD
Amazing Display
SOLD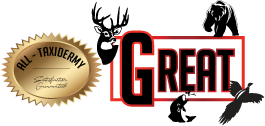 Extremely Soft
SOLD

Outstanding
SOLD
Bobcat Taxidermy Mounts Cost
The position style and size of the bobcat will decide how long the job takes. The longer and harder the job, the pricier it will be. Most bobcat taxidermy offered is typically full-sized and simply varies between the positions available.
Bobcat Taxidermy Mounts Positions
There are several options to choose from when it comes to bobcat mount positions. Below are the three most common positions:
Sitting: The sitting position is the easiest and cheapest to make but is not as popular as other positions.
Laying: The laying position is another popular option. This stance is relaxed and has the advantage of fitting in several locations around the home.
Standing: From a simple standing position to a hunting stance, there are several ways to create this position. As the standing position is the most popular choice, it is widely created and has many options to choose from.
About All-Taxidermy
All-Taxidermy is a small, family-owned company in Wrightstown, Wisconsin, providing superior service and products for the past five years. All-Taxidermy cares and respects all our customers, and we take great pride in every job we do. Whether we're creating a tiny squirrel, a stalking bobcat, or a majestic wild moose, we infuse the same level of care into doing the job right and making the finished product look like a work of art.