Category Filters
OUTSTANDING!!
SCI Score 22 8/16
SOLD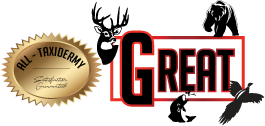 Enjoy the majesty of the brown bear as a pelt decorating your furniture or wall, or mounted in the corner of your living room. The brown bear (Ursus arctos) calls Eurasia and North America its home. There are a number of subspecies of brown bear, including the Siberian brown bear (Ursus arctos beringianus), and the North American Grizzly bear (U. a. horribilis). The shaggy-furred brown bear enjoys feeding on plant roots, shoots, berries, small mammals, fish, and carrion. They are generally solitary animals. Brown bears come in a variety of brownish colors, including grayish white, bluish brown, brown, and dark brown to almost black.
Brown Bear Mounts for Sale
Our brown bear mounts are available at great sale prices. They come in a number of poses, from standing upright on two legs, to standing on all four paws. We also have ½ wall mounts. We can customize your brown bear mounts depending on your choice also, so please give us a call to see how we can specially customize your piece. Check out these five popular ways to pose your bear mount.
Brown Bear Rugs for Sale
Looking for a beautiful brown bear pelt? All-Taxidermy has several pristine brown bear rugs available. Add a brown bear rug to your rustic décor, whether it's to embellish your couch or to add aesthetic beauty to your cabin wall. Regardless of your choice, these quality brown rugs are sure to be a conversation-starter!
Grizzly Bear Rugs & Mounts
We have a number of Grizzly bear rugs and mounts available in our online inventory. The Grizzly bear, one of the largest subspecies of brown bear, is native to North America. With a fearsome reputation, this magnificent animal comes in either our high-quality standing mounts or as an outstretched rug.
We also provide custom taxidermy pieces. If you want a customized Grizzly bear mount, whether wall or standing, or a beautiful rug to decorate your wall, be sure to make an inquiry for your own Grizzly bear taxidermy piece.
Brown Bear Taxidermy Price
How much is a grizzly bear mount? This is based on several factors. The pricing for our brown bear taxidermy pieces are based upon the size of your mount or rug and also its quality grade. While browsing through our website, you may have noticed that we have several quality grades, including Trophy, Superior, Excellent, Great, Fair, Poor, Rustic, and Novelty & Oddity. Overall, our brown bear taxidermy pieces are in near flawless condition. Shop All-Taxidermy for great prices on your brown bear taxidermy mounts and rugs.
Some people who are interested in rustic interior design may find a taxidermy piece to be the perfect focal point for the corner of the room, on the wall above the TV, or draped as a beautiful pelt over a couch. Another popular approach is including taxidermy in contemporary art.
About All-Taxidermy
Born in the heart of Wrightstown, Wisconsin, All-Taxidermy is a small, family-owned business with a commitment to provide our clients with superior customer service and beautiful taxidermy pieces. Our standing mounts, wall mounts, rugs, and more are dedicated to careful attention to detail. We are passionate about making your brown bear and Grizzly bear pieces look as real-life as possible. When you work with All-Taxidermy, you can expect only prompt service, great care, and stunning taxidermy pieces. Shop our wide selection of bear taxidermy mounts, from brown bear to black bear taxidermy.